On ne voit toujours pas le bout du tunnel comme on dit, mais gardez l'espoir les beaux jours arrivent !!
De notre côté en tout cas on commence à réfléchir à quelques moments de rencontres où on pourra faire un peu de bruit, certainement en extérieur bien sur, mais il y a de quoi faire... Le manque se fait maintenant trop sentir, nous allons devoir réagir, intelligemment si possible ?
Un grand merci à tous ceux qui ont pris leur carte d'adhérent 2021, nous allons très certainement vous convier prochainement à venir la retirer au Pavillon 108, on vous fera part des travaux réalisés, des projets d'avenir....Tout en respectant bien sur le proctologue sagittaire...
Pour les autres, il est toujours temps de prendre sa carte, le lien reste ouvert. (ci-dessous)
Un nouveau projet va voir le jour au Pavillon 108 sous l'impulsion de jeunes bénévoles motivés.
Le Café Culturel Associatif
Qu'est ce qu'un café culturel associatif ?
Café ?
C'est un lieu de vie où tu pourras venir boire un verre pendant ses heures d'ouverture dans une ambiance conviviale et musicale.
Culturel ?
C'est avant tout un lieu culturel, de partage et d'animation. Tu pourras participer à des activités culturelles, rencontrer des artistes, écouter de la musique, nourrir ta curiosité et ton éveil culturel.
Associatif ?
C'est un projet de l'association After Before. Il est géré par une coordinatrice de projets culturels et par ses bénévoles, pour ses adhérents. Il est à but non lucratif et s'inscrit dans les projets culturels et les valeurs de la structure.
A ce titre, nous avons besoin de votre avis, de vos souhaits  et nous vous demandons de prendre 5 minutes pour répondre à ce questionnaire, c'est important pour la suite.
Merci !!
Affiche FOCKS disponible au Pavillon 108!!
Le pavillon 108, c'est aussi un studio de répétitions équipé à des tarifs défiant toute concurrence, associatif quoi....
2 € de l'heure par musicien ou forfait 10 heures de 30 euro.
Toutes les infos du Pavillon 108 en détails Facebook
Adresse: PAVILLON 108 / 108 RUE LEON JOUHAUX / 47500 FUMEL
prog: Chris: captaineab@gmail.com
          Joe: joe@after-before.org



2020
ça se résume à pas grand chose....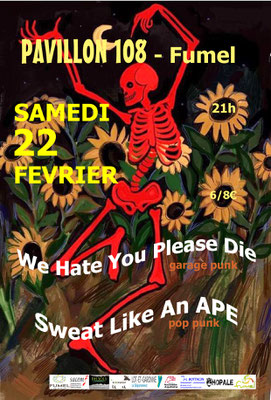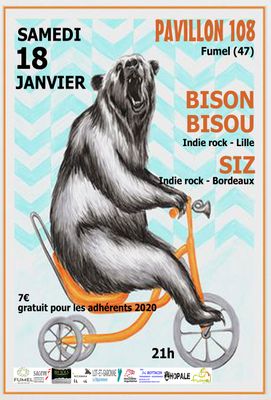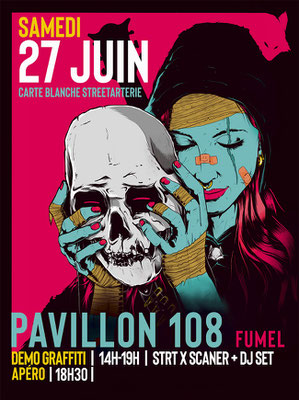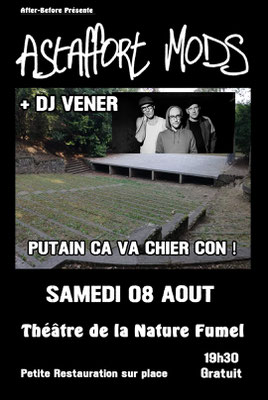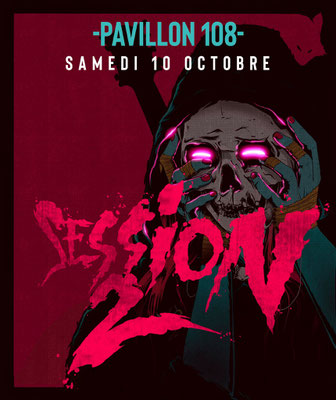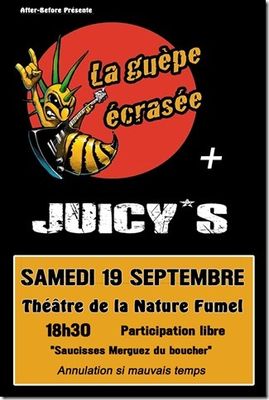 Past Shows
2019
Datcha Mandala, Lysistrata, Juicy's, Zenzile, Weeding dub, Cannibales, Arno de Cea, Capsula, Sheriff Mouloud y el Zorro Loco, Slift, Go!zilla, Flox, La Nuit des Morts Vivants, John, Done, the Chainsaw Motel, Brutus, Miët, Ingrina, Rendez-Vous, Charly Fiasco, Wake the Dead, Dj Licht und Blindheit...
2018
Red Eye Ball, Sheriff Mouloud y el Zorro Loco, Walk in the Wood, Libido Fuzz, Shut up Twiste again, Dead Krazukies, Booze Brothers, Les Naufragés, Red Money, Decibelles, Equipe de Foot, Alam, Striklly Band, RBH Crew, The Mochines, Rocket Juice, Escobar, They will destroy your Ears, Y?, Mellanoisescape, Lane, Nebulous, No Glory, Nesseria, Laissez passer l'Art, The Dizzy Brains, Make-Overs...
2017
Escobar, Texas Texas, King Kong Blues, Fuzzy Vox, Slift, Naya, H Burns, Wat, RBH, Rose Béton, La Guêpe Ecrasée, Sex Pistils, The Sunvizors, Païaka, Rocky Grenadine picture show, Lysistrata, Dot Legacy, Lords of Altamont, Sate, Badass Mother Fuzzers, Johnny Mafia, The Decline!, Rocket Juice, Maurice Coocker... 
2016
Fabulous Sheep, Sweat Like an APE, Cobra, Le Bal des Enragés, Not Scientists, Michel Cloup Duo, Hiroshima Mon Amour, Les Sheriff, Kaviar Special, The Lookers, Washington Dead Cats, Crazy Dolls & the Bollocks, Datcha Mandala, Cockpit, Robert Openightmare, Rose Beton, Kylt, Galva, Capsula, Wailing Trees, RBH...
2015
Soviet Soviet, Lindbergh, The Sexopath, Gavlyn, Oh Blimey, Lords of Altamont, Critical Project, Olivier Depardon, Hiroshima Mon Amour, Serpettes, La Guêpe Ecrasés, Dirty Fonzy, Détritus & the Destroyers, Positive Roots Band, La Tchutchuka, Not scientists, Forest pookie, Peter Black, Alpaga, I Me Mine, Ropoporose, Peter Kernel, Magneto, Cdt Cousteau, Ultra Démon, The K, Narco Terror
2014
Mü, Les Naufragés, La Guêpe écrasée, Hint, Basement, Capsula, Les Wampas, Burning Heads, Les Sales Majestes, The Lanskies, Bleech (uk), Jayanah, Nosybe, Justine, the Decline, Sleep/walk, Vibronics, Weeding Dub, Noods, Extra Dry, Billy Hornet, Thelma on Fire...
2013
The Patriotic Sunday, Cats on trees, Reversatile, Da Krew Labo, Pharphéonix, B-side, SWY, Gravity, The Shelters, The Pelvis Douglas, The Booze, La Guêpe Ecrasée, Sleeppers, Pylone, Aspic, D911, Les Sex Pistils, Paganella, Wombo Orchestra, Los Explosivos (Mexique), Willis Drummond, Berri Txarrak, Cannibal Mosquitos, The Irradiates...
2012
7 Weeks, Dub Trio (USA),  Twin Twin, Bitterchupchupwelose, Microfilm, Electric Electric, Sleeppers, Basement, The Banyans, Webcam Hi-Fi, La Colonie de Vacances, Burning Heads, The Rebel Assholes, The Wackids, Zion Train (UK), Zenzile, The Hyenes, Dirty Fonzy, Goat River, Robot Orchestra, Nosybe, Poutre, Idem, Pord, Cafe Flesh, les Louise Mitchels, Mastervoice...
2011
The Toasters (USA), Boom Babylon, Colocks, Shaman Culture, Hiroshima mon Amour, Chokebore (USA), Mc Noodles, Salut les Anges, Brassens not dead, CharlyFiasco, Hard'ons (Australie), Gerda (Italie), Rodeo Idiot Engine, Double Nelson, Master Voice, L'Enfance Rouge, Da Krew, Fumuj, Kunamaka, Sna Fu, Slogan....
2010
Carusella (Israël), Openightmare, Antillectual (Pays Bas), Flying Donuts, Hellbats, Sex and Dollars, Lazy guns Brisky Japon), Human Toys, Parabellum, Detritus n destroyers, Bitterchupchupwelose, Lexicon (USA), Khod Breaker, Rageous Gratoons, Bulbul (Autriche), Uncomonmenfrommars, Grosso Gadgeto, Josh, Good Bye Diana, Papier Tigre...
2009
Novartone, Charly Fiasco, 1st Part, Hiroshima Mon Amour, Myguk, Vibronics (UK), Uptown Rebel, Carusella (Israël), The Hop La, Strychnine, Martin et Dubois, Aeroflot, The sexuals, Danakil, Highlights, Radio Bomb, Dupek, Randy Mandys, Dj Moule, Redbong, Psycho Mutants (Hongrie), Marvin...